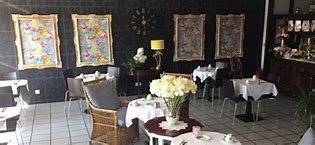 CIRCA TEA-ROOM NEAR AMBLE
During our recent stay at Stonyfield Holiday Cottage in Rochester in the Northumberland National Park, we decided to pay a return visit to two vintage and antique shops - both with a tea-room - in Amble. We last visited these businesses a couple of years or so ago - pre-covid. Before setting off on what was a 90 miles round trip to Amble, recognising that many businesses had closed as a result of the pandemic, I checked on the internet to see if the two shops were still trading and their opening times. Both had active websites, both featured on Trip Advisor and both claimed to be open on the day and at the time of our intended visit so off we set on our personal Antique & Cake Road Trip. On arriving in Amble at the site of "Artiques at the Marina" we found the place had been completely demolished and was now a building site! How annoying was that? Enquiries revealed that the business had closed down months ago! Why of why haven't the owners of that former business had the decency to take down their website and entry on such as Trip Advisor. Enticing visitors when they are no longer trading really isn't on. They are just wasting people's time and money! Notwithstanding, this outing did have a happy ending because the other antique and vintage business called CIRCA was open and, following in the footsteps of Anita Manning, we enjoyed a lovely afternoon tea there. I would add that this establishment's hygiene and covid security measures are second to none and the coronation chicken sandwiches are to die for!

AN ANTIQUES ROAD TRIP

Always on the look out for that must-buy item that's "as cheap as chips", we - that's me and her who must be obeyed - became especially avid watchers of BBC's 'Bargain Hunt' in its heyday, when Tim Wonnacot took over the role of compere from David Dickinson. Forgiving him for his odd pronunciation of some words, Mr Wonnacott's erudite manner brought a touch of class to the programme. Since his departure, whilst the basic format of the programme remains the same, there have been some innovations and rule changes which, it might be argued, have kept the programme fresh. However, both experts and contestants now seem to have been schooled in adopting an approach which comes over as OTT fake enthusiasm for their respective tasks. As a consequence, we now prefer to watch 'Antique Road Trip' and 'Celebrity Antique Road Trip' , programmes for which Tim Wonnacott does the voice-over and which we find quite entertaining, although one has to take some of the deals that are done with a huge grain of salt! Over the years we have made a point of noting the locations of the antique businesses featured and Antique Fairs visited in both of these BBC programmes with a view to visiting these places ourselves, especially those venues combining antiques with a tea-shop!
Copyright STONYFIELD HOLIDAY COTTAGE